王建华,博士,研究员,博士生导师,上海高校特聘教授(东方学者),上海市卫生局优秀学科带头人(新百人计划)。1994年毕业于安徽省蚌埠医学院医学检验专业,1997年和2002年分别获上海第二医科大学微生物专业硕士和生物化学与分子生物学专业博士学位,2003年在University of Michigan (Ann Arbor, USA)从事博士后研究,2009年1月回国,任实验室PI。
研究领域:
  1.微环境在肿瘤发生、发展中的作用及机制;
  2.表观遗传修饰高甲基化癌基因1 (HIC1)调控肿瘤发生、发展;
  3.纳米材料在肿瘤治疗中的应用。
研究团队: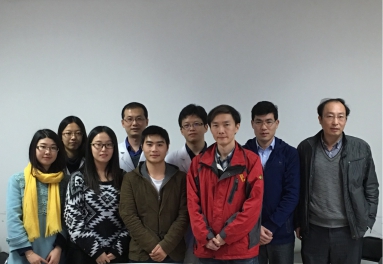 代表性论著:
Zu LD, Xue YJ, Wang JL, Fu YJ, Wang XM, Xiao G, Hao MG, Sun XQ, Wang YY, Fu GH, Wang JH*. The feedback loop between miR-124 and TGF-β pathway plays a significant role on non-small cell lung cancer metastasis.Carcinogenesis, 2016; 37:333-43.
Xiao G, Wang XM, Wang JL, Zu LD, Cheng GC, Hao MG, Sun XQ, Xue YQ, Lu JS*, Wang JH*. CXCL16/CXCR6 chemokine signaling mediates breast cancer progression by pERK1/2-dependent mechanisms. Oncotarget, 2015; 6:14165-78.
Cheng GC, Sun XQ, Wang JL, Xiao G, Wang XM, Fan XM, Zu LD, HaoMG, Qu Q, Mao Y, Xue YJ, Wang JH*. HIC1 silencing in triple-negative breast cancer drives progression through misregulation of LCN2. Cancer Research, 2014; 74:862-72.
Zheng JH, Wang JL, Sun XQ,Hao MG,Ding T, Xiong D, Wang XM, Zhu Z, Xiao G, Cheng GC, Zhao MZ, Zhang J, Wang JH*. HIC1 by epigenetic modification modulates prostate cancer progression. Clinical Cancer Research, 2013; 19:1400-10.
Hao MG, Zheng JH, Hou KL, Wang JL, Chen XS, Lu XJ, Bo JJ, Xu C, Shen KW, Wang JH*. Role of chemokine receptor CXCR7 in bladder cancer progression. Biochemical Pharmacology, 2012; 84:2204-14.
Tian QW, Tang MH, Sun YG, Zou RJ , Chen ZG, Zhu MF ,Yang SP , Wang JL, Wang JH, Hu JQ. Hydrophilic Flower-Like CuS Superstructures as an Effi cient 980 nm Laser-Driven Photothermal Agent for Ablation of Cancer Cells. Advanced Materials, 2011; 3:3542-47.
Wang JH*, Ying GG, Wang JC, Jung YH, Lu J, Zhu J, Pienta KJ, Taichman RS. Characterization of phosphoglycerate kinase-1 expression by stromal cells derived from the tumor microenvironment in prostate cancer progression. Cancer Research, 2010; 70:471-48. (Co-corresponding author)
Sun XQ, Chen GC, Hao MG, Zheng JH, Zhou XM, Zhang J, Taichman RS,Pienta KJ, Wang JH*. The role of CXCR12/CXCR4/CXCR7 chemokine axis in cancer progression. Cancer and Metastasis Reviews, 2010; 29:709-22.
Wang JH*, Lu Y, Wang JC, Koch AE, Zhang J, Taichman. RS. CXCR6 induced prostate cancer progression by the AKT/mTOR signaling pathway. Cancer Research, 2008; 68:10367-76.(Co-corresponding author)
Wang JH, Shiozawa Y, Wang J, Wang Y, Jung Y, Pienta KJ, Mehra R, Loberg R, Taichman RS. The role of CXCR7/RDC1 as a chemokine receptor for CXCL12 (SDF-1) in prostate cancer. Journal of Biological Chemistry, 2008; 283:4283-94.
Wang JH, Wang JC, Dai JL, Jung YH, Wei CL, Wang Y, Havens A, Hogg PJ, Keller ET, Pienta KJ, Nor JE, Wang CY, Taichman RS. A glycolytic mechanism regulating an angiogenic switch in prostate cancer. Cancer Research, 2007; 67:149-59.